Stroke mechanism pressure sensor plays the unseen leading role in the drive of entertainment images and in the accelerator of amusement game machines.
Pressure sensor with stroke movable mechanism equipment can sense the soft touching pressure of palm and fingertips.
Detect contact of F-R characteristic curve similar to spring stroke compression curve.
As plastic molded cover type product is being used, the specialty of this product is satisfactory.
In the drive of entertainment images and accelerator of game machines.
In the volume adjustment of musical instrument and for the water quantity control device.
Speed control and stroke contact detection of the variable input part.
Responds to soft touch in Amusement game machines.
Shipment inspection specification
F-R characteristic inspection is carried out by placing flexible board on a flat surface and pressure is applied continuously on the dome surface.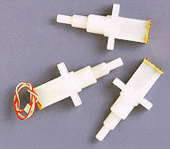 <Standard Products>
SS-13
stroke 13mm
SS-13-L
includes cord
SS-13-LT
includes cord and connector
SS-13 Specification
( Coming soon )