Detection of weight distinction, fingertips pressure contacts, cylinder form objects such as canned drinks and bottles in automatic vending machine.
The strength and weakness of the pressure can be detected continuously by pressing the rubber molded (NBR)dome(R8.3) part without touching the sensor detection part directly.
The sensor cover itself is soft, rubber molded (NBR) and it has a stainless steel cover (SUS 304) for protection against external load, harsh environment and dust.
As the sensor itself is soft and the surface is dome shaped, roll over detection is possible without the detection part getting stuck.
The sensor itself is screwed to an epoxy plank enable detection of delicate contacts pressure.
Applicable to electric current as high as 5mA and direct LED drive.
Please choose the product according to the requirement of the installation position and size.
Automatic detection of cans, bottles and cylinder form objects, weight and contact pressure distinction detection.
Rollover objects detection automatic detection, commercial machines detection rollover pressure detection, fingertips contact pressure detection. (Automatic Vending Machines, Cans, bottles).
Detection of soft touch contacts.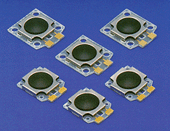 <Standard Products>
SR-D-15-□
Plank max outline dimension 12x15mm
SR-D-18-□
Plank max outline dimension 14.8x17.4mm
SR-D-□-S
Height from plank base 3.5mm
SR-D-□-H
Height from plank base 5.2mm
SR-D-□-□-L
includes cord
SR-D-□-□-LT
includes cord and connectors
SR·D-H type specification
( Coming soon )
SR·D-S type specification
( Coming soon )